Boiling over is over forever.
The right temperature is decisive for achieving perfect cooking results. A few degrees too hot and the risotto burns, the milk boils over and the sausages burst in the pot. But if you cook with the PerfectCook sensor, it monitors the temperature of the pot during cooking and regulates it automatically – finally putting an end to overcooking, burning and boiling over.
Quick and easy to use.
A flat, magnetic, dishwasher-proofed ring is attached to the outside of an inductionsuitable cooking pot. It transfers the required information to the hob. All it takes to activate PerfectCook is a push of the button on the sensor and confirmation on the hob. A signal is given when the set temperature is reached.
Easy temperature control.
Whether a meal is cooked correctly in a pot depends on its temperature. PerfectCook makes it easy to always cook with the right heat. You simply select the required temperature level once. During cooking, the sensor monitors the temperature and regulates it automatically, meaning you don't need to repeatedly adjust it yourself. The sensor also reliably prevents overboiling and overcooking – on all cooking zones and with up to three pots simultaneously.
There are many ways to make a perfect steak. Here's a short cut.
Is there anything more delicious than a steak fried to perfection? However, you don't just need a fresh piece of meat from a good butcher. The ideal temperature for frying is also decisive. No matter how you prefer your steak, the PerfectFry sensor controls the temperature of the pan during frying and makes precise adjustments as necessary. This guarantees the perfect steak every time.
This is how PerfectFry works:
Simply activate PerfectFry sensor via the controls. Then select the optimal temperature level. The pan is then heated to the desired level and the temperature is automatically regulated. The hob gives off optical and audible alerts when the desired temperature is reached: the steak can now be fried at the optimum heat.
Temperature setting with PerfectFry sensor.
Perfectly frying a steak starts with the right temperature of the oil, because different types of oil have different smoke points. And without exact temperature management they can burn easily. For example, the smoke point of sunflower oil is 210–225°C, while that of virgin olive oil is just 130–180°C. PerfectFry sensor shows you when the ideal temperature for adding the oil to the pan has been reached.
Overview of hob interfaces.
Bosch interfaces: electric hobs with control at your fingertips.
It is not always easy to keep an overview of all your pots, pans and settings when cooking. That is why we developed our TFT-touchdisplay in such a way that you can easily find your way around the menu and always have a clear overview, e.g. to make selecting and activating additional functions simple. The lettering is clear and easy to read and the integrated pictos help you to quickly find your bearings – even if things get hectic.
User-friendly design on a bigger scale.
Attractive to the eye and operated with your fingertips: with a total length of 30 cm, DirectSelect Premium interface offers total operational comfort when cooking. It makes the selection of the desired cooking level and additional functions intuitively simple, because it only shows the functions you really need at any moment on the electric hob. And, even when switched off, the interface has an impressively clean and high quality look.
Bosch Assist: preprogrammed cooking success.
Selecting the right setting when cooking could hardly be easier, because, with Bosch Assist function, you have someone at your side who knows exactly what temperature is ideal for the dish in question and provides practical recommendations. And thanks to the high resolution TFT-touchdisplay, even selecting the desired meal is at your fingertips.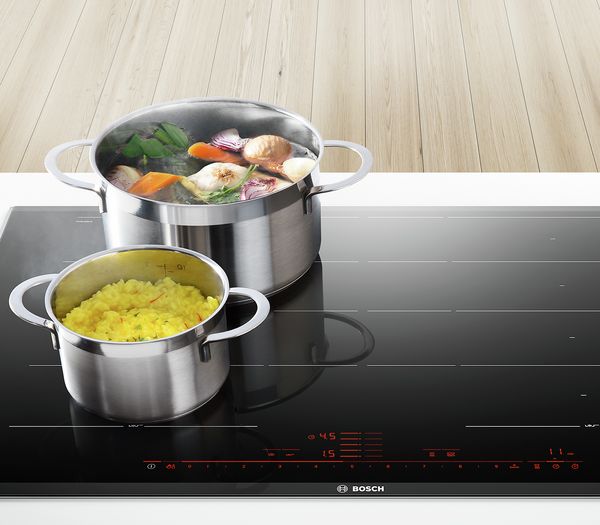 Endless flexibility: more space for your pots and pans.
More space on the electric hob means greater flexibility when cooking. With FlexInduction from Bosch, you can adjust your induction hob to suit your needs when cooking at the touch of a button. For example if you want to use a large roaster, you can combine two cooking zones to create a large, continuous cooking zone. The possibilities are almost endless thanks to the expandable FlexInduction zone. There is even space for your pots and pans with a diameter of 30 cm and roasters or accessories measuring 40 cm in length.
Our cooktop offering at a glance:
Series | 8 >

Series | 6 >

Series | 4 >

Series | 2 >

Hob Control
DirectSelect Premium
TFT-touchdisplay
DirectSelect
TouchSelect
Knob control
PerfectCook
–
–
–
PerfectFry
With 5 levels
With 4 levels
–
–
Assist
–
–
–
Frame Design
U-form bevel,
ComfortProfil: Front and rear bevelled edges with stainless steel trim on the sides
U-form bevel, Basic Frame,
Comfort Profil: Front bevelled edge with stainless steel trim on the sides

Frameless,
Basic Frame

Frameless,
Basic Frame
Flexibility
FlexInduction with extended FlexZone, FlexInduction
FlexInduction, CombiZone
FlexInduction, CombiZone
–
Width in cm
90, 80, 70, 60
90, 80, 60, 30
60
60, 30

Serie | 8





Electric Cooktops





Induction Cooktops

Serie | 6





Electric Cooktops





Induction Cooktops

Serie | 4





Electric Cooktops





Induction Cooktops

Serie | 2





Electric Cooktops
Highlights for your kitchen.
Quality for every task. We offer a wide range of accessories to ensure 100 % precision of fit for perfect cooking and frying results.
Fine dining at the push of a button.
The perfect complement to your electric hobs: Our Series 8 ovens combine cutting-edge technology, timeless design, remarkable ease of use and less work in the kitchen. Making the new Series 8 from Bosch, the easy way to perfect results.